What is a spill kit, and what is used for?
The basic procedure for treating spillage is to control its further spread and dispose of it as soon as possible. The spill kit is designed to ensure that the spill is washed and cleaned effectively and efficiently.
Spill kits are found in industries and businesses; however, they are designed as spill response products. Furthermore, a skilled professional should always handle all hazardous chemicals carefully using a Body Fluid Spill Kit.
From simple leaks to disastrous ones, a spill kit can handle the following:
Body fluids
Dangerous chemicals such as acids and alkalis
Oils
Fuels such as petrol and diesel
Solvents
Cooking oils and other food material
Drainage and sewage
Different workplaces and industries in which spill kits are used include:
Warehouses
Workshops
Auto repair and maintenance of garages and workshops
Laboratories
Hospitals, clinics, ambulances, other care and medical organisations
Commercial restaurants and kitchens
Transport companies
Oil, gas and mining sectors
The armed forces
Manufacturers
Construction sites
Farms
Shipping, marines and docks
Local and public sector facilities
Waste and rubbish collection areas
Vehicles carrying hazardous chemicals or substances
Components Included in a Spill Kit
Though spill kits cover most types of liquids, different liquids have exclusive properties that require special techniques and materials to handle. Some of the most common components include:
Safety goggles
Gloves
Disposable Bags
Absorbent socks
Absorbent pads
Absorbent Pillows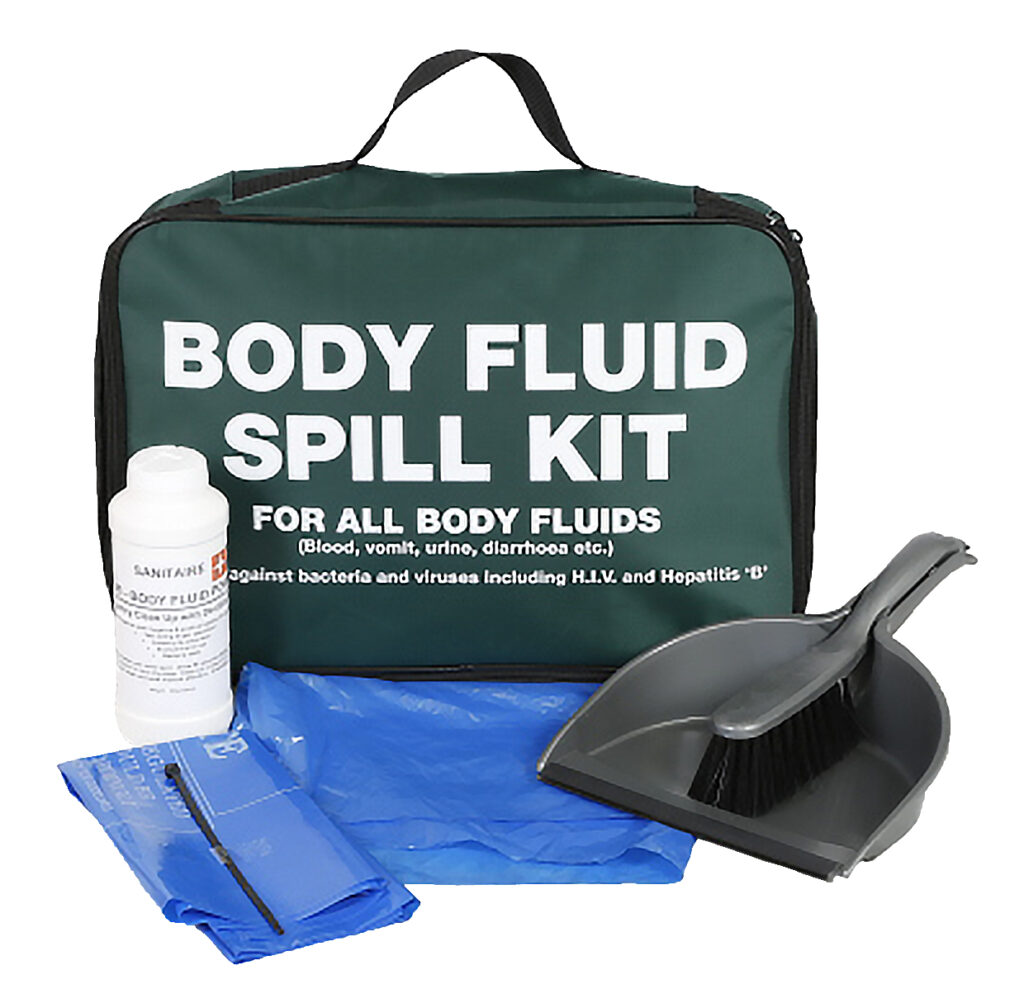 Major Types of Spill Kits
The following are the main spill kits you should have in an emergency.
Oil Absorbent Spill Kits:
the oil spill kits are used to safely absorb hydrocarbon-based spills, which can be used indoors and outdoors. Oil-only absorbents are perfect for cleanups on several bodies of water as they do not bond with water.
If oil is spilt in water, it can be harmful and pollute water systems. For instance, areas where vehicles and engines operate risk fuel or oil spillage. Therefore, an oil-only spill kit should be available at your workplace.
General Purpose or Universal Spill Kits:
These are the most common as they cover a range of chemical spills. A general-purpose spill kit can clean non-aggressive substances such as fuels, coolants, solvents, hydraulics and other liquids.
Furthermore, it's efficient in cleaning the chemicals as fast as possible because it contains bioactive absorbent powder. These kits include absorbent mats, perimeter containment, disposable bags and essential PPE (Personal Protective Equipment).
Chemical Spill Kits:
These kits are specially designed to deal with aggressive and hazardous chemicals. Harmful chemicals may include alcohol, corrosive liquids, bleaches, acids etc. A PPE is provided in the kit, among a step-by-step guide, which should be worn by a professional and trained worker during a cleanup.
Additionally, chemical spill kits should include absorbents, land socks, antistatic waste bags and ties, blue plastic barrels, absorbent pads and socks, gloves, and goggles to contain the hazardous material safely.
Specialty spill response kits:
Other than the main ones, there are specialty spill kits. These specialty spill kits are battery acid spill kits, biohazard spill kits, and mercury spill kits.
How to Select the Right Size of Kits
Everyone needs to determine the right size of the spill kit according to the spillage. Here are some ways to reflect on when calculating the right size.
there is a small spill, only a simple bucket kit is required; if it's larger, more than 95 gallons of spill kits or larger ones will be needed.
If your facility faces more than usual spills, you will likely have to store Spill Kit Refills. If none are stored, you should evaluate the places that require spill kits at your workplace and make room for kits so that you can easily access them whenever needed. It is crucial to take action swiftly in an emergency.
This hugely depends on the nature of your workplace; for instance, for trucks or vehicles, you need bucket kits or truck kits. Whereas on a dock, a special type of drum spill kits, a bucket spill kit or even a combination may be needed. Furthermore, in many nations spill kits are a legal requirement as it helps in handling dangerous liquids and chemicals.
About Author