Getting a fair and glowy skin is every woman's most precious dream. Modern fast life and the environment's pollution are so harmful that it almost took away the fairness and the glow from everyone's skin. If you do not take care of your skin in a proper way, the skin dullness and the appearance of the age spots are very obvious. The fair and spot-free looks are the most attractive part of any human being.
Now not only the women men are also starting to take care of their skin. As they are starting to become more concerned about their look and appearance. If you are seeing the result of how to get fair skin for men, you instantly get a clear idea of the women's fair skin remedies, and the men's fair skin remedies are two different types of remedies. As we all know, the men's and women's skin texture is totally different.
10 Effective Tips For Home Remedies To Becoming Fair
The women and the men are always having different skin textures, but the home remedies remain the same as the kitchen is the same. The home remedies are useful for every type of skin and season.
If you want the long-lasting effects and without harming your skin, then these ten types of a skincare routine are the best to sort out all of your fair skin related problems.
Blushing Glow With Tomato
Tomato is a red vegetable with a huge source of vitamin C and K.
Process: Simply wash the row tomatoes and smash them and make a pulp out of it.
Then apply the paste all over the face. And do not forget your neck and the collar bone area.
Cons: If you are feeling some tingling sensations or burning sensations, then instantly remove it with natural temperature water. And use the tomato paste along with cucumber paste.
Golden Glow With Turmeric Pack
Turmeric is one of the best antiseptic and antioxidant ingredients in your kitchen. The turmeric is giving you an instant golden glow and helps to remove the suntan.
Process: Peel the raw turmeric and make a fine paste with it. And make a pack with besan and rosewater. Apply these face packs with a flat brush all over your face and neck. And leave it till dry and then wash it off.
Cons: If you have dry skin, then you have to add some glycerin with the pack and use your daily moisturizer after washing off the face pack.
Fair Moisturize Glow Milk
Milk is a great source of the lactic acid, and vitamin D. lactic acid is removing the dark layer of the skin. The fair, moisturized glow is the most appealing part of the milk pack.
Process: Milk is a very watery ingredient. You can apply the row milk with a cotton ball and leave it for 15 minutes and then wash it off with natural temperature water. Otherwise, you can add the milk in the turmeric and besan face pack and use it all over your face.
Cons: If you feel an itching sensation after applying the raw milk, then wash it off with water. And the dry skin people are getting the most benefits out of these packs.
The egg is full of protein and omega -3s. The egg is the best ingredient, improving skin elasticity and enhancing the overall skin complexion.
Process: Take a raw egg and beat it in the small bowel, and then apply it all over the face and the neck with a small flat brush. And leave it till dry and then wash it off with the natural temperature water.
Cons: An egg mask is beneficial for oily skin, and it is improving the overall look of your skin by shrunken your skin pores. If you have dry skin, then avoid using this facemask.
Get Remove Tan With Papaya Mask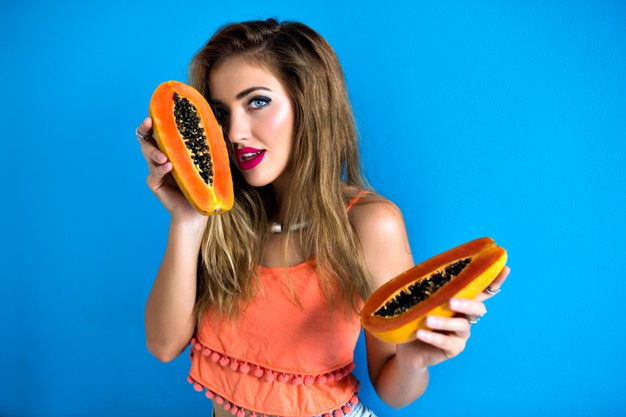 Papaya is the best ingredient that is a great source of alpha hydroxy acid, vitamin C, and E.Papaya to improve your skin texture and elasticity of the skin. The raw papaya mask is the best part of ingredients to get naturally fair skin.
Process: Make a paste with the raw yellow papaya and make a paste with it. You can apply these raw pasts or apply some besan or fuller earth with this face pack. Apply the face pack all over the face and neck and leave the pack for 15 minutes and then wash it off.
Cons: If you have sensitive skin, then sometimes applying the raw papaya irritates the skin, but if you add the papaya paste with the fuller earth or the besan, then it will be more suitable for your skin.
Fuller earth is a magical ingredient, especially for oily skin people. The fuller earth is a known ingredient for absorbing oil and other impurities. It is a most effective skin cleanser for people suffering from clogged pores and blackheads or whiteheads.
Process: Fuller earth can be used as any type of face pack base ingredients. You have to make a past with the fuller earth and rose water. And then apply these past all over your face. Leave the face pack still until the pack is dried and then wash it off with the water.
Cons: Fuller earth is an effective face pack for oily skin people, but if you have dry skin, add some milk or glycerin with the pack or apply your daily moisturizer after washing it off.
Lighten Your Dark Spots With Coconut Water
Tender coconut water is an excellent source of the anti-oxidant and makes your skin look more fair and hydrated.
Process: Take a tender coconut and store the coconut's water in a small airtight container or store the water in a small spray bottle. And apply this freshwater with a small cotton ball. Leave it on your face, at least for half an hour, and then wash it off with natural temperature water.
Cons: Coconut water is a great source of essential nutrients. If you feel some irritation after applying the water, then wash it off with a mild cleanser.
8. All Fruit Face Mask
Almost multiple times, you are herding about the fruit facial and the fruit mask. But applying the natural-based fruit mask is the best way to get the instant fair and nourished look.
Process: You can add any seasonal fruits like papaya, kiwi, cucumber, strawberries, etc. The papaya and the antioxidant fruits work very well as the face mask. Make a fine paste with these natural fruits and apply these face masks all over your face. And leave it on your face for half an hour and then wash it off.
Cons: Sometimes, the natural ingredients have some allergic components like the pineapple. If you have some allergy regarding any fruits, then consciously avoid that fruit in the mask.
9. Vitamin C Enriched Lemon
Rubbing raw lemon is a great way to get rid of the suntan and boost your fairness with the natural source of the vitamin C.
Process: Take one lemon and squeeze the lemon juice into a bowl. And apply the lemon juice all over your face and avoid the eye area. Or you can mix the lemon juice with the fuller earth or besan and then apply it to your face. Leave it on your face at least for 15 minutes, and then wash it off.
Cons: Vitamin C is a citrus fruit. If you feel any burning sensation, then instantly wash your face with water.
Read Also: Circle Box Blog, Istana Green World, World News Inn. World Health Life, News Stoner, Techrab, News Profy, Proudly Updates, True Health Tips, Worthy To Share.
10. Aloe Vera Gel
Aloe Vera is a great source of moisturizer and provides you with great relief from sunburn and skin darkness.
Process: Cut a fresh aloe vera leaf. And hang it one night and drain all the toxic substance from it. The next morning, cut the aloe vera leave's thorny sides and remove the leaf's upper layer. And scope out the fresh aloe vera gel and make a smooth paste out of these fresh, clear gel. You can apply this past any time, leave it in your face for 15 to 20 minutes, and then wash it off with water.
Cons: Remove the toxic substances from the leaves and then use the leaves.
Read Also: Tech Mag News, Plus Lifestyles, World Tech24, Exclusive Rights, Voice of Action,
Bottom Line
Most of the people asking for fair skin remedies have three types of skin: oily skin, dry skin, combination skin, and sensitive skin. The chemical-based treatments are not only costly. It will show the effects on your skin for a minimal time period. 
That was it for this article. If you found it helpful, consider checking out our blog Topnewsnet.com
About Author